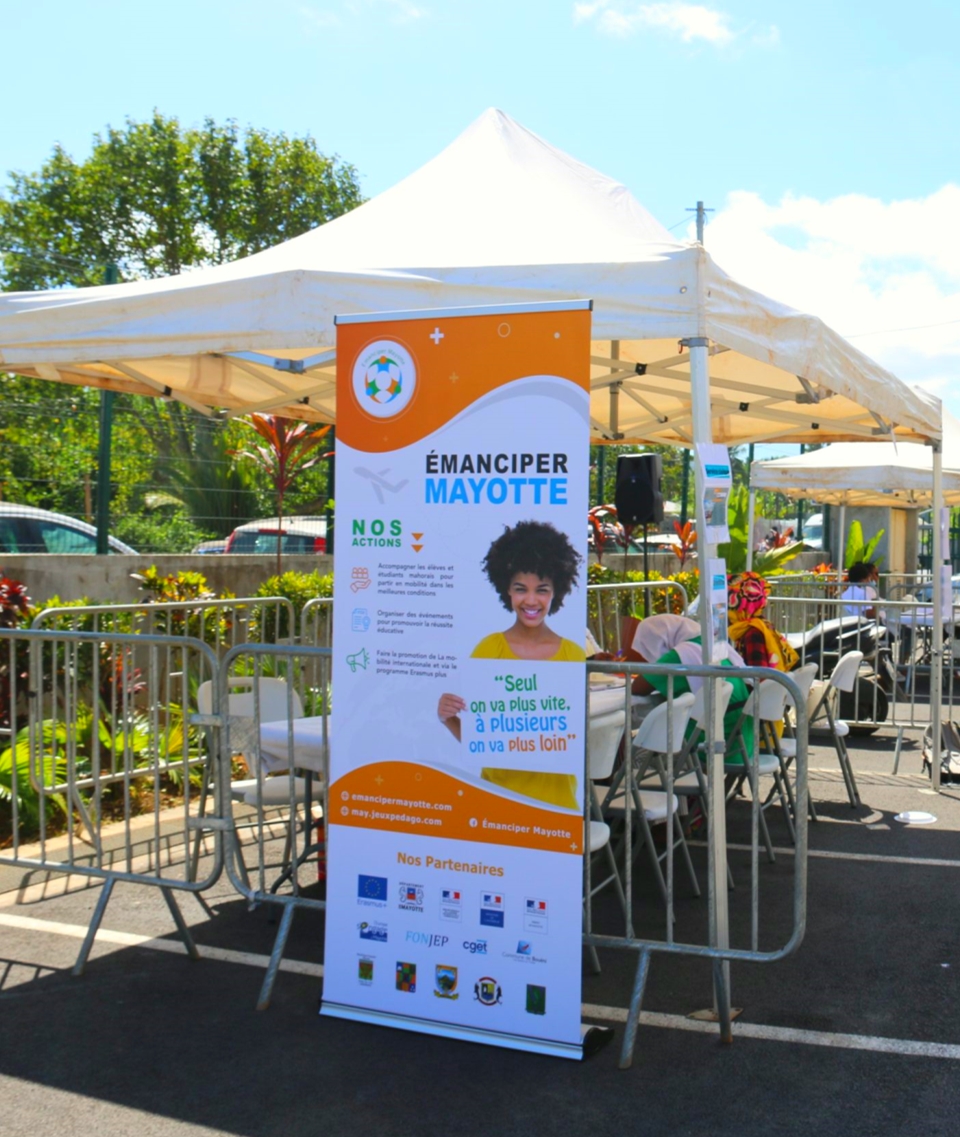 EMANCIPER MAYOTTE
ABOUT OUR ORGANISATION
The Association Emanciper Mayotte (Empower Mayotte) is a non-profit organisation established in June 2017 and based in Mayotte (French department), in the Indian Ocean.
We work in the field of popular education and mobility of young people. The main objectives are to accompany the Mahorais with a mobility project in mainland France and abroad, whether it is in the context of further studies or professional training. The aim is to empower the citizens of Mayotte in order to take their future in hand, to become autonomous and to participate in the sustainable development of Mayotte.
We provide activities for young people to promote educational success in mobility, intercultural dialogue and non-formal education opportunities. We work in partnership with high schools and education stakeholders to implement a mobility training course each year during the summer holidays (Mobility forum By Emanciper Mayotte) to help the young people to prepare their mobility in good conditions.
During this training course, we work on "how to : choose their vocational counselling, get an accommodation in a new country, take the public transport, understand interculturality, manage a budget, organise their personal agenda to reach their goal.
During this event, we also follow the students who have left the school system, who have financial difficulties and who come from low-income families.


"Mobility forum by Emanciper Mayotte" is an action that we organise each year around the island during the summer holidays (from July to 15th August).
We organise training courses for young people and let their parents know how to prepare for mobility. During this event, we follow the students who failed the baccalaureate (final exam at high school), we present them the different training courses they can integrate in Mayotte in order to get a job. We give them all the information and conditions to join the training course of their choice. Each year, we follow more than 1,200 young people and their parents during our mobility forum.

Empower Unite Reach out (EURO) is an Erasmus+ project that we have set up in 2019. The project consisted in organising a youth exchange with young people from Mayotte, Lithuania, Romania and Poland. The activities consisted of training courses about subjects which concern the young people. We impelled them to think about 32 items, like discrimination, assisted suicide, abortion, self-confidence. When they had chosen an item, they had to do a presentation to the group and lead a debate on the subject. For the first part of he project, the activities took place in Poronin, Poland. In 2020, we organise it again as the EURO 2, with activities in Mayotte and Poland.
For the Mahorais participants, it was the first time they had left Mayotte and gone to a EU country. They discovered a new culture, new weather, new young European population. They understood the importance of mastering the English language. All the Mahorais participants are young people with very few opportunities (NEET = Not in Education, Employment or Training). Three months after the project, 85% of the participants are employed or in training.
One of them joined the Emanciper Mayotte team. The other participants discovered Mayotte, the last European outermost region, its culture and its traditions. They understood that we have the same challenges to respond to: how to help young people empower themselves and become the responsible citizens of the future. »

Reintegrating new graduates (from high school) professionally through European mobility (INEO). We provide this mobility project to permit young people to acquire a first professional experience abroad in the sector of activity that inspires them. And increase the employability of young jobseekers from Mayotte. This project reintegrates these new graduates professionally and socially thanks to a unique experience abroad. It is an opportunity for them to learn a foreign language and to experience a new way of working.